---
---
---
Indexed August 10, 2017
Vintage CopperCraft Guild Taunton Mass Copper Aluminum Roly Poly Cups With Tray Set Of 5 Roly Polys Mid-Century MCM Retro Barware Drinkware by CheckEngineVintage
$38.00 USD
More Photos & Availability
---
Additional Info
Lovely set of five (5) Coppercraft Guild roly poly cups with a matching copper tray. Super cool mid-century style in this set of barware. The cups are in good shape with no dents but there is some discoloration that should come out with some elbow grease and polishing. Each cup is approximately is about 3 inches tall and 3 inches wide. The tray is approximately 12 1/4 inches in diameter.

Please zoom in on photos for condition.

We ship items 1-3 business days after purchase via Priority Mail.
---
Love it? Share it.
---
---
More from this Store
Brass Elephant Figurines Set of Two (2) Vintage Small Family Figurine Collection Mid-Century Hollywood Regency Figure Trunk Up Good Luck by CheckEngineVintage> Check Engine Vintage Washington, DC (DC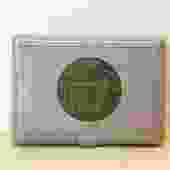 Vintage Deltah Jewelry Box Pearls Pale Pink Violet Cream Satin Bakelite Celluloid 1940s 1950s Retro Mid-Century Vanity MCM by CheckEngineVintage> Check Engine Vintage Washington, DC (DC
Vintage Camera Water Gun Toy Spesco Atlanta Georgia NOS Made in British Colony Hong Kong China 1960s by CheckEngineVintage> Check Engine Vintage Washington, DC (DC
---
---