---
---
---
Indexed August 8, 2017
Vintage Eden Harlequin Big Eyed Girls Picture Wall Plaque Set Wood Frame 1960s Eden Kitsch Lithograph Board String Instruments Jester Prints by CheckEngineVintage
$48.00 USD
More Photos & Availability
---
Additional Info
Super cute set of Eden-style lithograph framed prints. Each framed print is 16 1/2 inches long, 7 1/2 inches wide, 3/4 inches deep. All four are in good condition with some paint loss on two of the prints but they look great and are ready to hang on your wall!

Please zoom in on photos for condition.

We ship items 1-3 business days after purchase via Priority Mail.
---
Love it? Share it.
---
---
More from this Store
Brass Elephant Figurines Set of Two (2) Vintage Small Family Figurine Collection Mid-Century Hollywood Regency Figure Trunk Up Good Luck by CheckEngineVintage> Check Engine Vintage Washington, DC (DC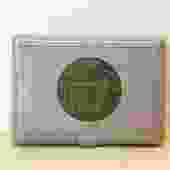 Vintage Deltah Jewelry Box Pearls Pale Pink Violet Cream Satin Bakelite Celluloid 1940s 1950s Retro Mid-Century Vanity MCM by CheckEngineVintage> Check Engine Vintage Washington, DC (DC
Vintage Camera Water Gun Toy Spesco Atlanta Georgia NOS Made in British Colony Hong Kong China 1960s by CheckEngineVintage> Check Engine Vintage Washington, DC (DC
---
---